evenements:shadershowdown
Table of Contents
Live Coding Party
Françouze
Le collectif Cookie organise des soirées de live coding, inspiré par le Shader Showdown de la demoparty Revision. Ce sont des compétitions amicales où des artistes de la demoscene programment des effets visuels dans un temps limité. Pour ce faire, toutes les technologies sont les bienvenues : synthèse sur carte graphique, glitch d'images, musique générative, tracé de fonctions mathématiques, chuchotement à l'oreille des GPU, etc.
Plus: http://cookie.paris
English
The Cookie Collective organizes live coding parties, inspired by the Shader Showdown from the Revision demoparty. It's a friendly competition where demoscene artists write code to produce visual effects in a limited amount of time. Any live tool is welcome : graph plotter, analog glitch, generative music, GPU whispering, etc.
More: http://cookie.paris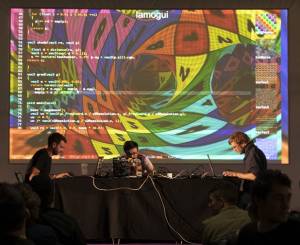 evenements/shadershowdown.txt · Last modified: 2019-02-12 02:22 by
barzi
---